Would you rather be paying 10.7c from your own solar power generator or 34.5c from your current provider?
$676,997
Total cost of power over the next 10 years
34.5c
Average cost of power per KWh
$259,767
Net savings over next 10 years
10.7c
Average cost of power per KWh
Wholesale Energy Prices have DOUBLED in the Last Year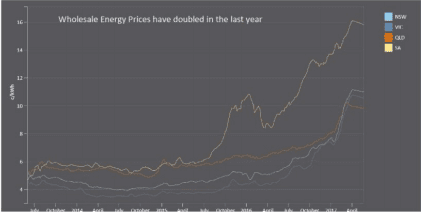 Is how much we can help you put into your bottom line!*
Based on a $5,000 per month bill the above graph shows how the cheaper price of solar can deliver for you.
The above solution keeps over $250,000 over 10 years in your back pocket, much better than the current solution of handing your money over to energy providers.
Solar for Business with GET
Preserve your capital
Simple online application
May be fully tax deductible
Option to buy or upgrade at the end of term
No financials / landlord waivers*
Contact Us Today